Responsible for 80% of all B2B leads from social media, LinkedIn is undoubtedly a force to be reckoned with when it comes to sales. In fact, social selling is all about creating more efficient lead generation and sales prospecting processes. 
By building and maintaining relationships with industry leaders in your social network, you are able to effectively target the right audience for your business and discuss your products and services in a way that naturally builds trust and confidence.
**Be sure to be logged into your LinkedIn account first.** 
To help quantify the value of social selling, LinkedIn created what is known as the Social Selling Index (SSI) – a score ranging between 0 to 100 that measures your social selling skills and execution. Your SSI score is updated daily and is measured in the following areas:
Performance in each of these areas is ranked individually, then combined to provide your overall SSI ranking. LinkedIn claims the higher your score, the more likely you are to have success in meeting your sales goals, stating: "social selling leaders create 45% more opportunities than peers with lower SSI." Here is an example of my LinkedIn SSI score (taken July 22nd, 2019).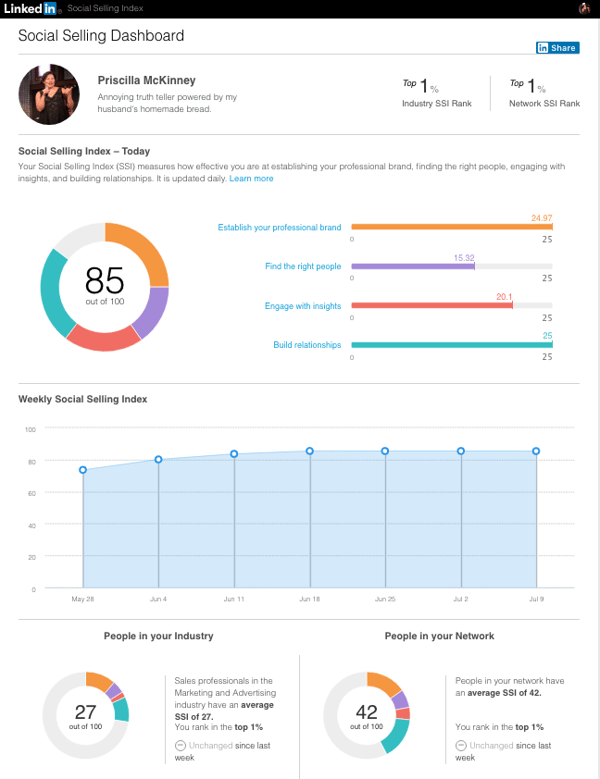 Want to know who I know? Connect with me on LinkedIn!
As you can see, I have an SSI ranking of 85, putting me within the top 1% of both my industry and network. Reaching this score, or any score of 80 and above, is considered extremely difficult and underscores an individual or business as a thought leader in their field. Improving your ranking takes an ongoing commitment to developing yourself in the social space, aligning your sales goals, and interacting with your network.
P.S. Social Influence is today's professional currency. We offer a 12-week course to help aspiring thought leaders cultivate and empower their professional brand through the power of social media. 
Now, let's take a further look at how LinkedIn measures your social selling efforts and how to begin improving your own SSI ranking. 
How Your SSI Is Measured and How to Improve It
Establishing a Professional Brand
LinkedIn looks at key elements such as profile professionalism, content creation, posting regularity, page views per post, and total followers gained. In other words, LinkedIn is measuring how well you are establishing yourself as a thought leader in your industry. Have you optimized your profile around attracting end-users, customers, and clients?

Are you posting relevant, curated content from trusted sources and publishing original articles? As you build your profile around a specific target audience and begin gaining credibility as a thought leader, your professional brand score will begin to rise. 
Finding the Right People
LinkedIn measures how efficiently you are building quality connections. This means knowing who you're looking for and then finding and adding them to your network. 
If you're unsure how to find relevant contacts, LinkedIn has a profile search function that allows you to identify better prospects using relevant keywords. As you find, reach out, and connect with the right people your score will increase.
Engaging with Insights
In tandem with creating a professional brand, LinkedIn examines how well you are at positioning yourself as a subject matter expert by sharing and engaging with industry insights. This includes how often you share relevant content, comment on industry topics, and participate in active group discussions. 

LinkedIn states, "nearly 64% of B2B buyers report that they appreciate hearing from a salesperson who provides knowledge or insight about their business." As you participate more with your network and the number of shares, likes, and comments your posts receive increases so will your score.
Building Relationships
LinkedIn examines how well you connect with your contacts and grow your professional network. This means building and establishing trusting relationships with decision-makers or senior-level prospects.

A larger network allows you greater leverage in finding new contacts and prospective clients. As your connections and relationships grow so will your score.
The Bottom Line
As previously noted, LinkedIn claims the higher the user's SSI ranking, the more likely a person or company will be to achieve its sales goals. While SSI cannot promise increased sales success, it does help show you a connection between your networking activities, sales opportunities and potential prospects. Ultimately, the information given by your SSI score gives you a more holistic understanding of how well you are performing in the social space, providing you with the opportunity to re-examine your sales efforts in connection to your brand and target audience.
---